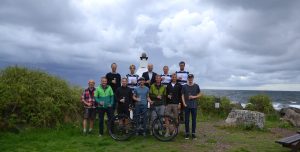 Kullabergs Stigcyklister is a 340 members non-profit organization consisting of people that all share the passion of riding bikes, especially on Kullaberg.
We also put great value in making sure that mountain biking on Kullaberg is conducted in a way that does not interfere with other users of the trails or the nature it self. We continuously work with keeping the mountain clean and clearing up fallen trees and branches after storms. All profit from the member-fee is spend on cleaning up the mountain.
We hope to see you on the trails one day!
Contact: emil (AT) specialsport.se
Facebook: Click here